You are Watching The Misfits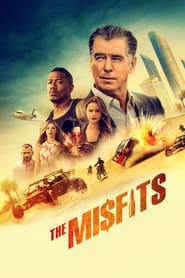 (Full HD Available)
The Misfits (2021)
Storyline:
After being recruited by a group of unconventional thieves, renowned criminal Richard Pace finds himself caught up in an elaborate gold heist that promises to have far-reaching implications on his life and the lives of countless others.
Movie Title: The Misfits
Rated: R
Genre: Action, Adventure, Comedy, Crime, Thriller
Director: Renny Harlin
Actors: Gonzalo Menendez, Hermione Corfield, Jamie Chung, Mike Angelo, Nick Cannon, Pierce Brosnan, Tim Roth
Country: United States
Release Date: 2021-06-10
Duration: 94 min
Tagline: They're not bad guys. They just steal from them.
Views: 503