You are Watching A Writers Odyssey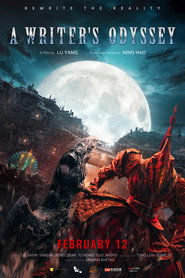 (Full HD Available)
A Writers Odyssey (2021)
Storyline:
Kongwen Lu is the author of a fantasy novel series following a heroic teenager, also named Kongwen, on a quest to end the tyrannical rule of Lord Redmane, under the guidance of a Black Armor. But through a strange twist of fate, the fantasy world of the novel begins to impact life in the real world, leading Guan Ning to accept a mission from Tu Ling to kill the author.
Movie Title: A Writer's Odyssey
Rated: Not Rated
Genre: Action, Adventure, Crime, Drama, Fantasy
Director: Yang Lu
Actors: Dong Jie, Dong Zijian, Guo Jingfei, Lei Jiayin, Tong Liya, Yang Mi, Yu Hewei
Country: China
Release Date: 2021-02-12
Duration: 130 min
Tagline: Rewrite the reality.
Views: 734